Regular Member
Posts: 11
Joined: Sat Jul 18, 2009 5:29 am
Location: Oregon
Contact:
---
Master Contributor
Posts: 1355
Joined: Wed Jan 21, 2009 11:53 am
Location: Md
Contact:
This is a guitar that Joe Hall assured me he built for himself while at Mosrite. I had a chance to purchase this guitar back in the 90's when I was contacted by a seller telling me it was Reverend Boatright's guitar. ( I have seen several old Mosrites that people have claimed to have been "that" guitar but they weren't. The Reverends was burnt up in a fire in the 80's at the Mosrite factory when Semie got the guitar back from the Reverend and it was never returned) When this guitar was offered to me, it was in this same condition having been broken and repaired for the price of $3500.00. I did not buy it but found it interesting and that is when I got in touch with Joe for more info.

Joe claimed he installed Hallmark Swept-Wing pickups on it later, and a trem arm from his parts bin that was a arm he designed for Standel in the 60's. (The one with the huge chrome plate with the pickups housed in it). Joe decided to change some of the parts on this guitar before selling it off later on in the late 60's or early 70's. He could not remember the exact year.

Joe went on to build more of these under his Sterling brand name he used in the early to mid 60's. Artie owns one of these.

Whom ever broke this guitar, it is a real shame. Whats worse is the modern Marshall amp looking Mosrite logo they chose to replace the headstock with. The 90's modern tortoise shell pickguard material doesn't do alot for it either. Why didn't they remake the Bigsby style plexi glass guard painted gold from behind?? Some of this could be easily fixed like the guard but, the guitar has also been refinished replaced gears and bridge as well.

This guy traded a Gibson Byrdland for it? Man, those sell for a mint these days.

I told the seller who had it in the 90's what it was and I had confirmed it, but he did not want to hear it, and did not know who Joe Hall was. I thought it was overpriced (for the 90's) being there was not much original left to it.

Joe said most of the work was his however, Semie did approve it and sign it as it was made at Mosrite.

Bob Shade
---
Top Producer
Posts: 605
Joined: Mon Jun 16, 2008 11:51 am
Location: Copenhagen, Denmark
Contact:
Talk about some interesting info there, Bob, that turns this whole story upside-down. No wonder why the seller didn't want to hear any of it.
---
Regular Member
Posts: 15
Joined: Fri Nov 21, 2014 8:18 am
Contact:
Hey Bob!

It's always fascinating to hear the real back story on another piece of Mostrite history. Thanks again for setting the record straight!

Ron
---
Master Contributor
Posts: 3733
Joined: Tue Mar 10, 2009 4:26 pm
Location: Westlake Village, CA
Contact:
Great back story Bob!
Is it fair to call this a prototype if Joe Hall actually built it for himself? If they had no intention of making a production model like this, then I'd be inclined to say it was simply a custom guitar. I think the term "prototype" is very overused and misused. IMHO.

____________________
1965 Mosrite Celebrity Prototype with Vibramute
1972 Mosrite Celebrity-III
1977 Gibson MK-53
1982 Fender Bullet
1994 Gretsch Streamliner G3155 Custom
2005 Gibson Les Paul Standard Plus
2006 Jude Les Paul 12 String
---
Moderator
Posts: 4981
Joined: Mon May 05, 2008 8:40 pm
Location: Ft Lauderdale Florida
Contact:
---
Regular Member
Posts: 11
Joined: Sat Jul 18, 2009 5:29 am
Location: Oregon
Contact:
Thanks for the back-story revelation on the guitar Bob!
---
Master Contributor
Posts: 1355
Joined: Wed Jan 21, 2009 11:53 am
Location: Md
Contact:
Here is a pic of a Joe Hall built "Sterling" brand twin neck guitar. This would have been early 60's. What a piece of work!
I don't think the roadshow guitar should be viewed as a prototype given the fact that Semie and Joe were were building these guitars as per order with none of them being identical.
I have the receipt book from the Sterling period in my Hallmark archives. You guys would die to see what Joe was charging for this stuff. Fancy guitars for less than $200.00 a piece. Joe told me it was good money for him in those days.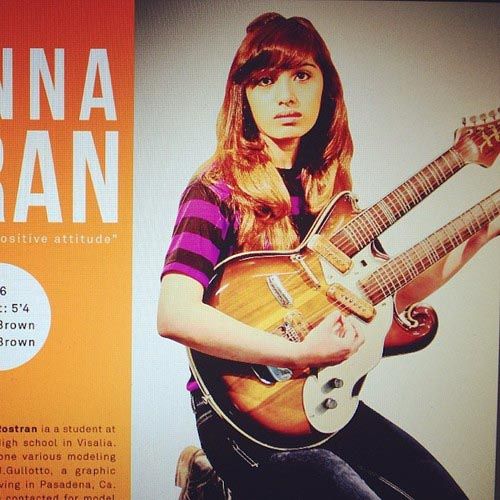 Cheers!
Bob
---
Active Member
Posts: 61
Joined: Tue Nov 15, 2016 2:27 pm
Contact:
---
Master Contributor
Posts: 1355
Joined: Wed Jan 21, 2009 11:53 am
Location: Md
Contact:
It certainly is nice to see Joe Hall's Mosrite back much closer to the original state. I am sure it was quite a repair by the looks of it. It still has the Hallmark arm and pickups on it that Joe mounted on it.

Was this guitar sold, then restored? Or restored now ready for sale?

Would love to hear a demo with this beast!

Nicely done! Bob Shade/ Hallmark Guitars
---
---
Users browsing this forum: No registered users and 1 guest